"I specialize in working with teenagers; especially those who have historically been skeptical of or resistant to engaging with therapy."
I view therapy as a collaborative, individualized experience. Rather than one model, I utilize techniques from cognitive behavioral therapy, social constructionism, emotion focused therapy and systems theory to find what works best for you. I'm not here to tell you what your life should look like or how to solve your problems. My goal is to help guide you to solutions and interactions that feel right for you. I work to create a judgement free space for you to feel safe in exploring your thoughts and feelings.
I have experience working with individuals, couples and families. I work with clients experiencing depression, anxiety, life transitions as well as those wishing to explore their gender identity, sexuality, or relationships more deeply. I specialize in LGBTQIA clients including youth and their families.
Education, Training and Experience:
Family Based Mental Health Services
Family Based Mental Health Professional - Currently in training with Child Guidance Center

Thomas Jefferson University - College of Health Professions
Master of Science Degree in Couple and Family Therapy, Sex Therapy Concentration
The College of New Jersey
Bachelor of the Arts in Psychology, minor in Anthropology

Wayne Counseling Center - Clinical Intern
Provided gender-focused harm reduction psychotherapy to transgender individuals & their families. Co-facilitated transsexual women's support group and facilitated a gender-variant youth support group.
Council For Relationships - Clinical Intern and Administrative Assistant
Conducted 750 hours of individual, couple, family and sex therapy from a systemic perspective with a diverse population of clients. Co facilitated safe play space for at risk youth
Southwest Network - Youth Therapist
Conducted individual and family therapy for youth of diverse backgrounds including those in CYS custody, at risk of out of home placement, and LGBTQIA, including trans youth in the process of transitioning/coming out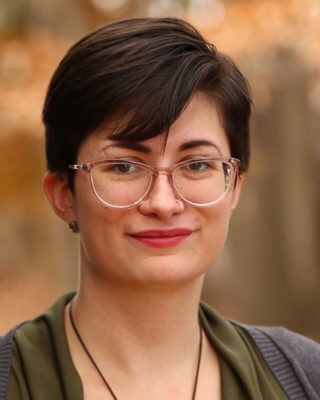 "I seek to help clients build deeper, healthier relationships with their loved ones.
We are fundamentally seeking intimacy and connection with each other, but there are many barriers that can impede this process, such as trauma, mood disorders, and negative core beliefs about ourselves. What is stopping you from building the relationships you want to have? I provide a compassionate, thoughtful space in which to explore that question, challenging clients to examine and rewrite the beliefs and narratives which have shaped their lives. I offer therapy to individuals, couples, and families, specializing in treating issues of communication, intimacy, and codependency. I am an LGBTQ+-competent, kink- and poly-aware, feminist and social justice-oriented practitioner.
Education, Training, and Experience:

Oberlin College-Bachelor of Arts in Psychology

Thomas Jefferson University
Master of Science in Couple and Family Therapy

Mental Health Partnerships - Patient Advocate
Advocated for the rights and fair treatment of people in mental health crisis; counseled patients to identify their needs and goals and provided group therapy focusing on life skills and distress tolerance.

Council for Relationships - Clinical Intern
Provided over 600 hours of individual, couple, and family therapy, working with a diverse population of clients and effectively integrating a variety of therapeutic modalities.
All In Solutions Counseling Center - Family Therapist
Counseled families to set boundaries and effectively support their loved ones throughout their recovery from substance abuse; provided group therapy educating on boundaries, codependency, effective communication, and emotional support.
Child Guidance Resource Centers - Family-Based Mental Health Professional
Provided in-home therapy to families dealing with behavioral issues